Pirates are best known for sailing from one place to the next looking for treasures to claim and towns to plunder. Most pirate-themed slots are either set on a ship out at sea, or on an island where some treasure is supposedly buried. Common symbols that you'll find in many pirate slots include things such as parrots, skulls and crossbones, cannons, swords and treasure chests - treasure, of course, plays a big part in quite a few pirate slots. Some pirate slots focus on the pirates themselves, while others feature things such as mythical sea creatures and spirits from the afterlife.
Treasure Themed Slots
Everybody has ever wanted to become a pirate. You can sail and experience lots of mind-blowing moments. Get ready to feel yourself Captain Crook because now you are given such a wonderful possibility. All you need to do is simply take a closer look at a wide selection of "Pirates slots", which can be found here, and choose the fruit machine you like the most.
By the way, you will be surprised with the amount of wheels of fortune we offer you. There are not only classic three-reel free slots, but also absolutely unique real money games with progressive jackpots and cutting edge 3D graphics. Needles to mention, no matter which fruit machine of the Pirates theme you will decide to try, you will highly value with its wonderful graphics, cute animations, impressive and super realistic sound effects, and absolutely life-changing jackpot payouts. Indeed, this site has what to offer for every gambler. Thus, you will certainly find a game that perfectly suits your skills, budget and preferences.
So, if you are brave enough to try your luck, get ready to play any wheel of fortune that is listed below and find the hidden treasures! Once getting started, you will be kept floating on an endless sea for months!
Lists of Pirate Slot Themes
Esball eu has prepared 5 pirate Treasure Themed Slots for all players, where you can enjoy the joy of being a pirate:
Super Powerful is an Asian-themed online slot game developed by PlayStar Gaming. In terms of graphics, this unique slot game looks interesting because it features icons in specific colors, reels in purple color separated by chains and a background image that depicts a ship's deck and other ships in front of it.
Super Powerful Slot Machine Free Spins Bonus
3 or 4 BONUS symbols can win 8 or 20 free spins.
During bonus 2, 3 or 4 BONUS win 5, 8 or 20 free spins again.
During bonus, there is one active position on reels 1 and 4.
Max free spins number is 200.
The range of non-activated prize is from 5 to 50,000 multiplied by bet multiplier.
At end of each game, all activated prizes are awarded.
Captains Bounty is a pirate-themed slot from PG gaming. With five reels and 20 paylines, this cascading reels slot has multiplier action galore, with increasing multipliers in the base game and the free spins bonus. Set sail for big wins in this medium-volatility slot with 96.15% RTP. The MAX BONUS multiplier is 30,000X.
Captains Bounty Slot Machine Free Spins and Bonus
If you get three scatter symbols appearing anywhere on the reels, you trigger Free Spins Feature with 10 free spins. Every additional scatter symbol trigger 5 more free spins. During the Free Spins feature, the multipliers on top of the reels are increased by 3x, 6x, 9x and 15x the bet. Free Spins can be retriggered.
Captain Pirate Slot Machine is equiped with 5x3 slot with 25 paylines features wild reels, free spins, instant prizes and an in-game jackpot. This is a medium volatility game with 95.99% RTP. Captain Pirate has called upon you to chart a course for vast treasures! This exciting slot has cannons, cutlasses and compasses as you set sail for the Bonus Wheel that can grant Free Spins, Multipliers, Instant Wins and the Jackpot.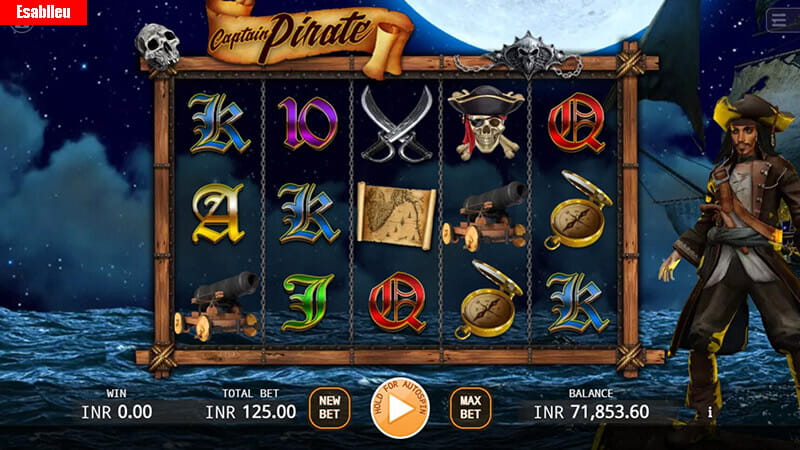 Captain Pirate Slot Machine Free Spins Bonus & Bonus Features
Land 3 or more treasure chest scatters in the base game to trigger the Fortune Wheel Bonus mini game. Spin the wheelto reveal one of the following prizes:
Jackpot.
$ instant win.
15 free spins.
50 free spins.
5 free spins with 4x multiplier.
5 free spins with 5x multiplier.
10 free spins with 3x multiplier.
50 free spins with 2x multiplier.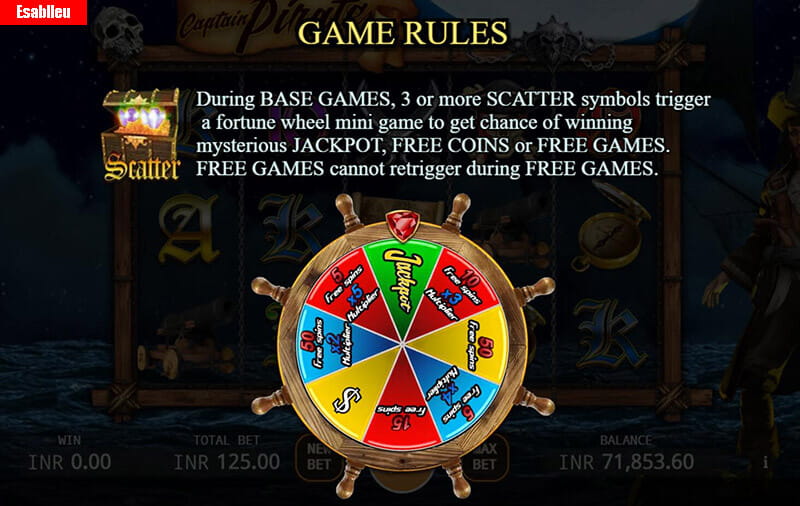 Pirate Treasure is an online slot game developed by JDB Gaming with an exciting theme like that. In terms of visuals, this is a very colorful slot that includes unique cartoonish symbols on the reels placed on the deck of a ship and an open sea in the background. The MAX BONUS multiplier is 2000X.
Pirate Treasure Slot Machine Free Spin Bonus
Any 6 or more BONUS symbol may initiates free spin bonus.
Additional 5 free spins may be awarded with 6 or more BONUS symbol during the free spin bonus to a maximum of 20 free spins. Depending on the count of BONUS symbol during this spin, extra WILD is added to reels 2, 3, 4 and 5. WILD can be added by a maximum of 240 in the free spin bonus.
The final count of BONUS symbol corresponds to the added number of WILD, refer to the hold & spin list for details.
Ahoy there mateys! Grab your map scroll and a bottle'o rum for this exciting romp in the seas. Sea of Spins is a 40 payline slot game from Evoplay Gaming. The game features three types of free spins round, each with a differing Wild feature. With a decent RTP of 96% and medium volatility, Sea of Spins from Evoplay Entertainment is easy to play and lots of fun.
Sea of Spins Slot Machine Free Spins Types
At the beginning of free spins, the players see what type of free spins they will get into.
The free spin type is chosen randomly.
Free spins are played at the same bet as the spin that activated free spins.
There are Hero and enemy ships present in free spins.
The hero and enemy have 7 points of health each.
For each spin, either the Hero's or the current enemy's health bar will decrease by one.
If the spin gives a Scatter the enemy's health bar decreases by one, otherwise the Hero's health decreases by one.
Enemy's health bar decreases by one point for each Scatter symbol.
The free spins ends when the health meter of either the Hero or enemy, reaches zero.
Know More Slot Machine Themes